Knife Show is making a limited run of these sweatshirts before the season starts.
All orders get a free sticker and a surprise gift from KnifeShow headquarters.
To order go to:
http://knifeshowinc.com/store/
The sweatshirts are all modified Hanes sweatshirts, which are fairly tall but if you want taller I would order a size or two larger. I know some folks prefer baggy clothes. Please include $10 shipping and handling within the continental US.
#1 – THE YETI – $55
This is a ferocious sweatshirt that would intimidate the most seasoned snowboarding veteran. It sports the trusted knife show name on the front, a knife coming out of the pocket for protection and of course, eyes and teeth.
YETI IN THE WILD!!!
#2 – THE GREY – $55
This is a dark grey hoodie with royal blue lettering and logos. It has the knife show name on the bottom of the front and back, and a small knife on the hood. (see below). We'll have shots of the reverse of this up soon also.
Pictured with official Knife Show mascot "Stabby."
#3 – THE POLAR BEAR – $55 (WOMENS SWEATSHIRT)
This is a clean white hoody with perhaps the most adorable polar bear ears known to mankind. It also has the name in grey on the front and a small grey knife on the back.
#4 – THE CASEY – $70
This is the only non-zippered hoodie we're making, because that's how Casey wanted it.
It has Knife Show written three times over, and a knife in the pocket. Also, the back has a KS, as shown below.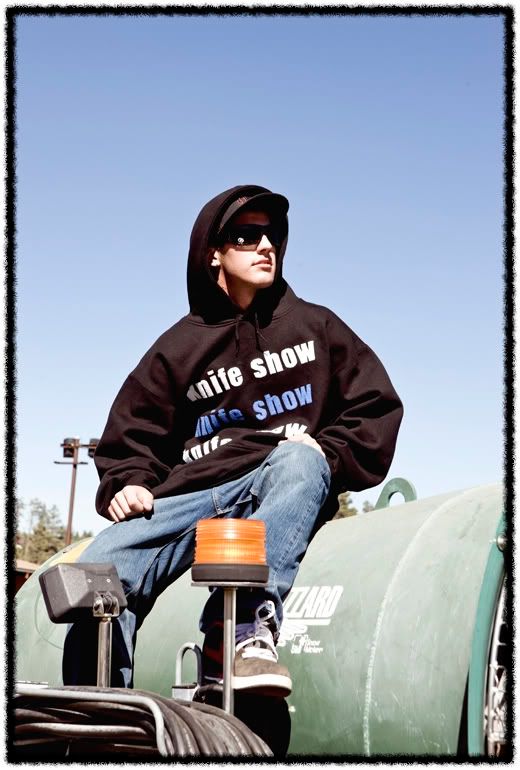 #5 – THE CLASSIC – $50
Simple is good too. This black sweatshirt has the knife show name on the front, a white knife in the pocket, and a second white knife on your back. You know. In case you get into a fight.
We'll also have some more pictures up very soon.
Thanks for the support guys!
-Mike and Casey